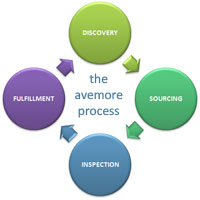 Historically, trading is based on two basic principals: Knowledge and Specialisation. Avemore follows these two fundamentals and adds in personal service to ensure complete client satisfaction.
Our specialisation in the industries that we operate in and our complete deliberation on our clients needs keeps us focused on giving them the best options available. A lot of research and thought goes in our process which identifies the opportunities by which the client can benefit.
Once a client's need is understood we tap different markets – across the world – to get the best comparative advantage for our clients. Our in-depth knowledge about the various markets gives us the edge to source the best possible deals that eventually satisfy the client.
Goods are inspected by our experts who are well experienced and have an in-depth knowledge in the industries that they operate in. Clients get their requirements, not just in physical terms but thoroughly inspected by our experts.
Client fulfillment is our basic mantra at Avemore. We believe in a long term relationship with our client and strive to see that their needs are not just fulfilled but they are completely satisfied.